A whole lot of street food feasting.
It's the country's second largest city with a population of 3.6m people but it's still much lesser known than Seoul. Busan is at the southern most tip of the peninsula, this seaside city is famous for it's seafood.  Jagalchi Market  is the country's largest seafood market.
Busan is also home to the world's largest department store, Shinsegae Centum City. Also inside this giant shopping meca, Spa Land is known as one Asia's finest saunas, currently rated as the number one Busan attraction on TripAdvisor.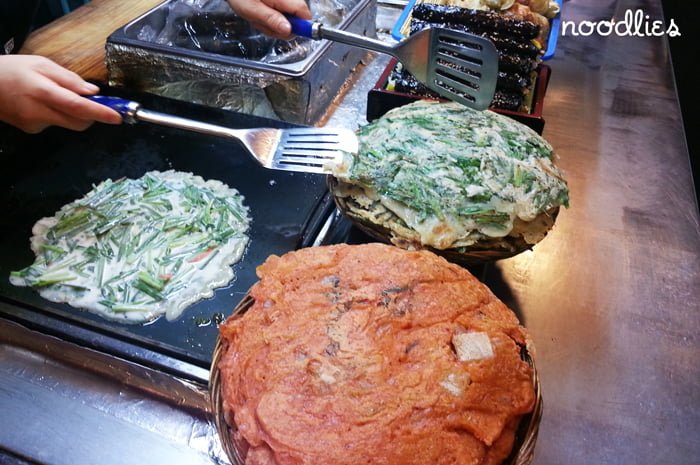 But, noodlies, Sydney food blog reckons the number one attraction of Busan is food and, in particular seafood and street food.
Gukje Market is a must visit if you love your food on the run and on the street. Yes, locals and visitors flock here for clothing, watches, general nick-nacks and even for the rows of fortune tellers, but it's the street food stalls that consistently pull a crowd. Just look for the sea of bright yellow and red umbrellas.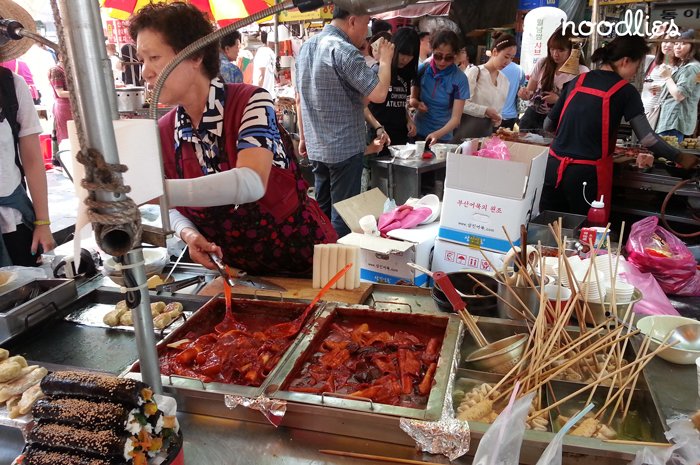 Above is a typical multi-food stall with ever popular chilli ddeokbokki, various food on a stick, dumplings and a particularly popular Korean sushi sausage. Pick and pay then hang around to finish your food before moving to the next food adventure. When these stalls are busy, there's an exciting buzz.
See the featured video above to get a sense of the frantic fun of Gukje Market (take Metro Line 1 to Jagalchi, exit 7).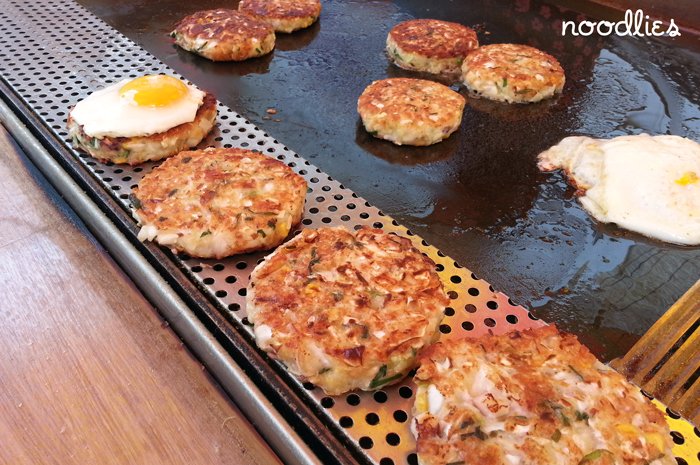 …it gets generously smothered in three layers of sauces; chilli, bbq and mayonnaise, then served up on a layer of newly fried egg.
Above is an example of a single item street food stall. These delicious patties contain roughly cut cabbage and other vegetables. The killer move happens after they're fried golden; it gets generously smothered in three layers of sauces; chilli, bbq and mayonnaise, then served up on a layer of newly fried egg. These patties glisten in golden fat after deep frying, but it'll be the sauces and egg which will give your doctor a heart attack (if you don't have one first).
The alley behind the Lotte Hotel (Seomyeon, Metro lines 1 or 2) is great for a convenient evening snack. That's where I had my favourite Busan street food, Korean hoddeok (or hottteok), below. These things are so simple but deadly addictive.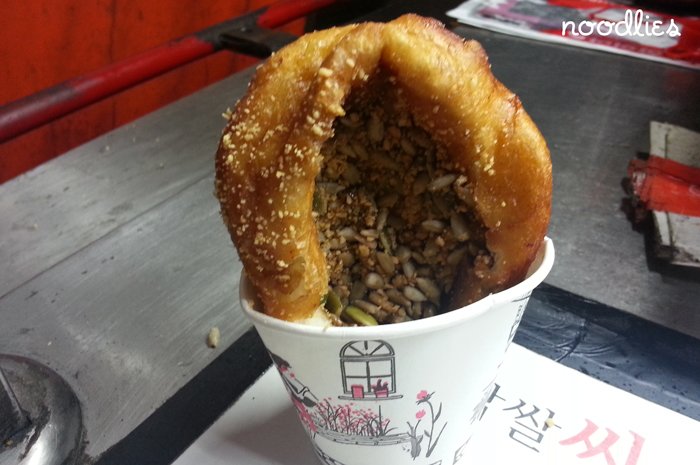 These more-ish buggers go for W1,000 (around $A1) on the street and are just dough, stuffed with brown sugar, cinnamon, walnuts, sunflower seeds and served up in a mini cup. I had to come back for seconds. I seriously would kill for these in Australia. If you know where I can get them, please, please tell!
Watch the noodlies video below and, ahem salivate!
It's in the alleys behind the Lotte hotel that I met this woman. At first glance, you'd wouldn't want to be giving this lady no shade. Though in reality this four foot tall stall holder turned out to be incredibly kind and attentive to this stranger in a strange land.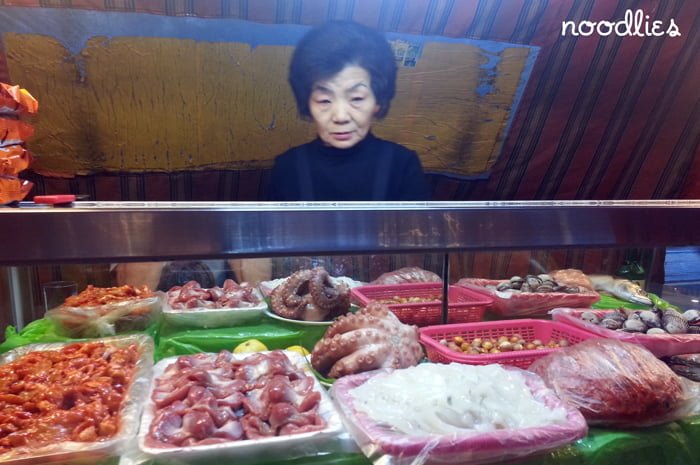 This is her stall, tented for greater warmth and privacy. Displayed in her meat cabinet is an assortment of meat and seafood, ready for on the spot grillin' and eatin'.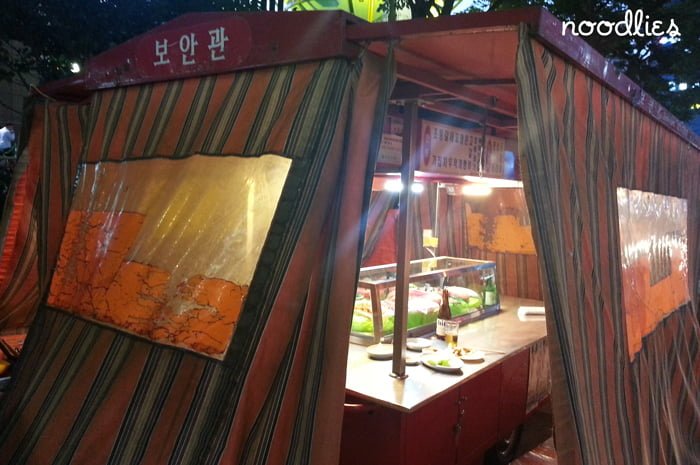 On my first night in Busan and in the relative comfort of her street food tent, I order up big – chicken and fresh prawns, downing them with a bottle of quenching, but weak-as, Hite Korean beer – pale lager from bottom fermentation (no comment). The freshly grilled chicken, I dip in gochujang (Korean chilli paste) and her lovingly shelled prawns into soy and wasabi sauce.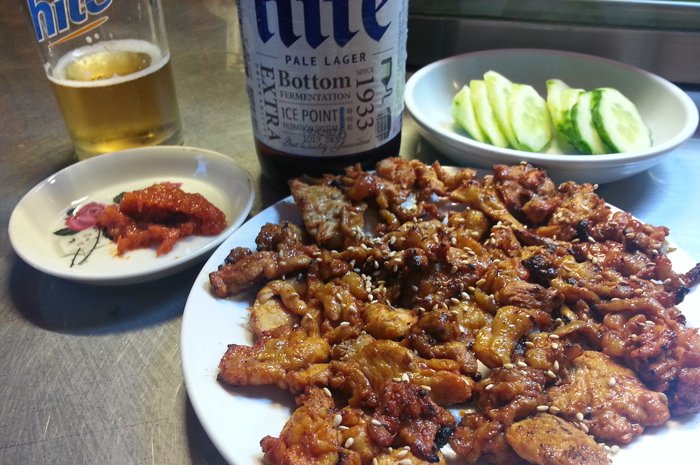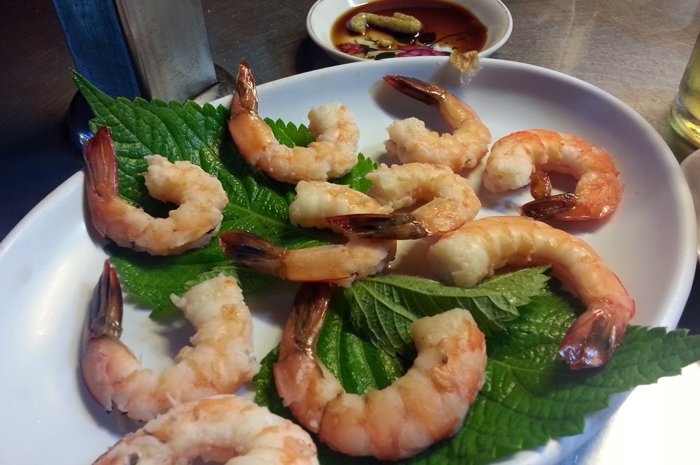 Yep, there are lots to like Busan and it really deserves to be on your Korean itinerary. Shopping, seafood and even that over-the-top spa might all be highly rated attractions, but for this visitor, a Busan is worth it for the street food alone.
This noodlies, Sydney food blog street food experience was courtesy of the Korean Tourism Organization.