Quick Bytes, Issue 2
Snippets of foodies news this week that's intriguing noodlies, Sydney food blog.
Welcome Quick Bytes, a weekly brief of fun and fabulous food news (mostly).  Be the first to be notified about the next issue of Quick Bytes by following me on twitter @thangngo or facebook.
Inside this issue of Quick Bytes:
Australia's most influential food gurus

My Kitchen Rules (MKR) winners by just two points, peaks at 2.95m viewers

Before food bloggers, there was David Chan
$295 – the priciest steak in town
Mile-high flirting
Express News you can chew
Australian Food Gurus: Neil Perry, Donna Hay and Matt Moran tops the list of food gurus who determine what we eat, where we eat and how we eat it according to the Sunday Telegraph.
MKR grand final: In an all Queenslander final, Dan & Steph narrowly beat and sassy sibblings, Jake & Elle, there was just two points in it 54 vs 52. The series final pulled in 2.95m viewers for the winner announcement (2.55m average) topping the night (The Voice still pulled in a respectable 1.96m). Dan & Steph revealed that they will use the money to fund further IVF treatments and open a gourmet sausage shop reports the Daily Telegraph.
MasterChef, the claws are out: speaking of MKR, MasterChef judge Gary Mehigan has dismissed MKR as appealing to "bogan Australia… there's bitchiness and all that drama", he says the latest iteration of MC, Boy vs Girls which is currently in production will be true to the MC concept "It still has to be about the food", reports the Sydney Morning Herald.
Chatswood: The new Chatswood Urban Walkabout guide has been launched featuring more than 30 specially selected local cafes, restaurants, bars and boutiques that reflect the diversity and changing multicultural landscape of the area. There's stationary store-cum-cafés, herbal medicine dispensaries, traditional Chinese yum cha institutions, Mediterranean tapas, Japanese home wares, Taiwanese desserts, European bier houses, and Vietnamese and Korean fare. The guide is available from most local hotels.
Jaw dropping
He's eaten at over 6,000 Chinese restaurants…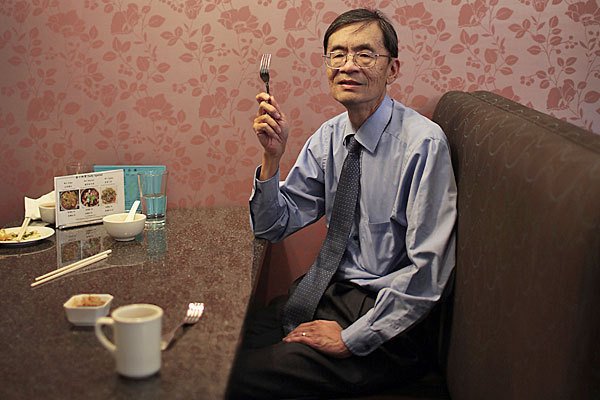 Before food bloggers there was was David Chan, 64, lawyer and accountant. Chan has eaten at 6,297 Chinese restaurants and he has documented the experiences on an Excel spreadsheet, a data-centric diary of a gastronomic journey that spans the United States and beyond. Read a fascinating recent feature on David Chang in the LA Times (image from LA Times).
The priciest steaks in town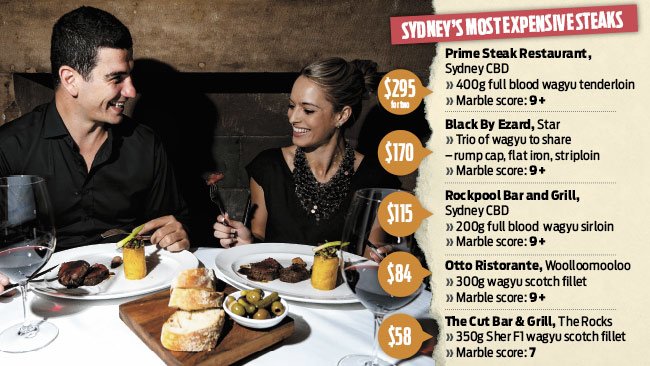 My local JJ's Steakhouse does steak, chips and salad for $10.  The Daily Telegraph reports on the most expensive steak in town and the winner is… Prime in Martin Place where a 400g full blood wagyu tenderloin will set you back $295, that's a cool first world A$737.50 per kilo.  Wonder if you get chips with that? (image from Daily Telegraph).
Mile high flirting, Virgin America style.

Here's a creepy way to fly thanks to fly. Virgin America is offering a "Seat-to-Seat Delivery" that allows passengers to send drinks, snacks and meals to other passengers via the in-flight entertainment system according to CNN. Amorous passengers can locate their flirtation target on a digital map of the plane, select what to send to them and add a message.  Unfortunately, unlike a bar, the uninterested party can't leave. Richard Branson has kindly done an instruction video.  It's all kinda creepy me thinks.
Couch Potato
Bizarre Foods with Andrew Zimmern (YouTube)

Bizarre Foods is a travel and food show hosted by Andrew Zimmern on the Travel Channel that debuted early 2007. Made for the US market, he focuses on food from around the world that are weird to the American palate. In the  episode in Bangkok, Zimmern is challenged by the sandy and sweet sapodilla tropical and not too impressed by "old cold toad". His shows roams the globe including Morocco, Beijing, Goa, Uganda as well as American states Texas and Arizona to shock America's lounge room with bizarre foods. On YouTube.
Anthony Bourdain: No Reservations (NINE)

Spend Saturday arvos with Anthony Bourdain as he roams the world giving us a window into the cultures and foods all around the world. Last week it was a fascinating insight into cambodia. This coming week Bourdain is in Haiti. NINE, Saturdays 3.30pm.
Peeps
Food people and food brands.
Bel Mondo will close its doors next month, the latest casualty in a vicious 12 months for Sydney restaurant closures according to SMH Good Food.
Mahjong Room launches Open Rice, Open Table, combining hawker-style street food and yum cha says William Hui of Mahjong Room. The launch party was held on Tuesday, 23 April. Open Rice, Open Table is available Friday and Saturdays 11.30am – 3.30pm.
Your say
Well that's the end of noodlies, Sydney food blog's first Quick Bytes. Did you find it interesting? Leave your thoughts and suggestions in the comment section.
Be the first to be notified about the next issue of Quick Bytes by following me on twitter @thangngo or facebook.
Read past Quick Bytes issues.
If you have news, email me thang[at]noodlies.com