There's an 'i' in communism
A new hot pot trend has caught the attention of noodlies, Sydney food blog
I reviewed ipot Chinese hot pot earlier in February this year.  I was intrigued with the concept of an individual hot pot sweeping China and now in Sydney. Could it be the new affluent Chinese are turning more into the 'i' generation rather than 'we' of communism? An individual hot pot caters for the diner's personal tastes, preferences and of course, hygiene.
Here's a short brief I wrote about ipot in the current issue of SBS Feast Magazine, issue 20, May 2013.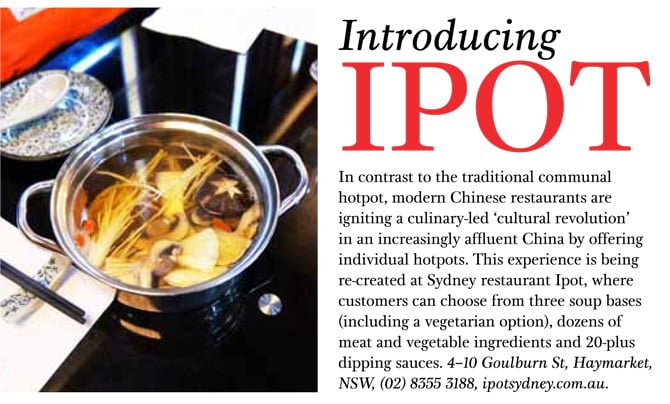 Introducing IPOT
SBS Feast Magazine, May 2013
In contrast to the traditional communal hotpot, modern Chinese restaurants are igniting a culinary-led 'cultural revolution' in an increasingly affluent China by offering individual hotpots. This experience is being re-created at Sydney restaurant Ipot, where customers can choose from three soup bases (including a vegetarian option), dozens of meat and vegetable ingredients and 20-plus dipping sauces. 4-10 Goulburn St, Haymarket NSW, (02) 8355 3188, ipotsydney.com.au.
Take a look inside ipot
Want to know more?
Read the full noodlies, Sydney food blog review of ipot.
Fad or future?
Individual hot pots do you think the concept will last or is it just a passing fad?  Leave a comment.