Noodlies, Sydney food blog has observed how Cabramatta is heaven for vegetarians.  With the recently opening of Green Palace Thai Vegetarian there's even more veg places in the area.  This takes the number of vegetarian establishments to seven, five restaurants and two veg groceries.
It's the morning after an indulgent and especially spicy Sichuan hot pot dinner so noodlies opts for a cleansing vegetarian lunch.  In addition to being vegan, Green Palace doesn't use onion, garlic or added MSG.  Yet there's still plenty of flavour.  The som tum benefits from very fresh ingredients, the green mango and carrots are especially crisp.  It has good flavour but feels light. Just what the doctor ordered!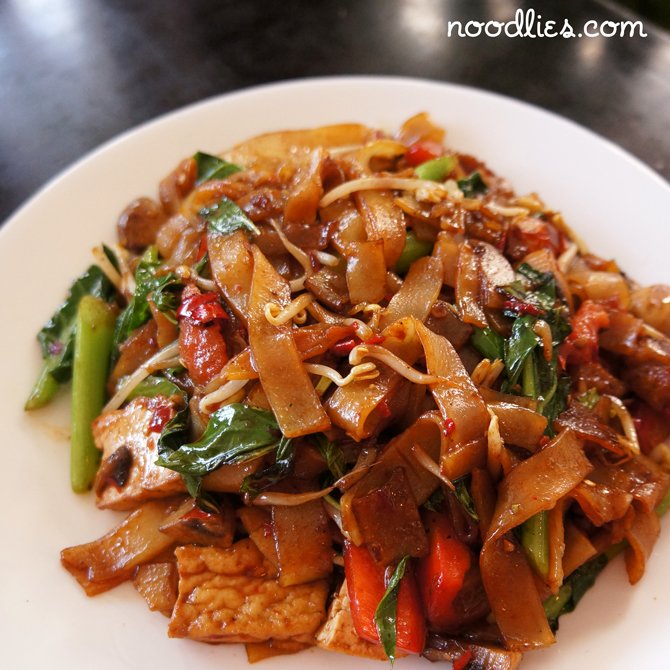 Pad kee mao (drunken noodles) is made up of fried flat rice noodles, veg 'chicken', tofu and a variety of fresh vegetables.  It's moist but not oozing in gravy.  The serving is huge and the dish look stunning, benefiting from the contrast of the wonderful colours and shapes against the crisp white plate.  Again the ingredients are fresh and perfectly fried, although just a tad too salty for me, this makes getting through the huge serving a little more challenging than it needs to be.
The fried rice is another stunner to behold, although it's darker in colour than I'm used to.  Again the serving is huge and the dish is just a little too salty for me.
Overall, the level of salt is a very minor issue which is more than compensated by the fresh ingredients and stunning presentation. The flavour is amazing considering it's a vegan restaurant and they don't even use onion, garlic or added MSG.  This is great, tasty vegan.
Green Palace Thai Vegetarian is on the Cabramatta Road West end of Belvedere Arcade, where Bayon used to be.  It seems to be an off-shoot of Green Palace Thai Vegetarian in Newtown.
Green Palace Thai Vegetarian
233 Cabramatta Road, Cabramatta