In the past couple of weeks, noodlies, Sydney food and travel blog has travelled to two countries and three cities; Siem Reap, Phnom Penh and Bangkok. And I've been pretty active the whole time visiting temples, eating street food and shopping.
Tonight we're flying home to Sydney from Bangkok with Emirates.  The evening flight means I've had to check out of the hotel and amuse myself for three hours before heading off to Suvarnabhumi airport.  So it's a relief to arrive at the Emirates Business Lounge to relax before embarking on my 9 hour flight.
The Emirates Business Lounge is generous – like everything else the airline does. You enter into a lounge area with wide, comfortable leather chairs, it's quiet and relaxing. On the right is a huge business centre with a bank of PCs around the walls.  And to the far right is the amazing food section.  It's like a restaurant because it offers a wide choice of food, from Thai snacks to beef steaks and other Western hot food, cheeses, through to fresh tropical fruit and juices.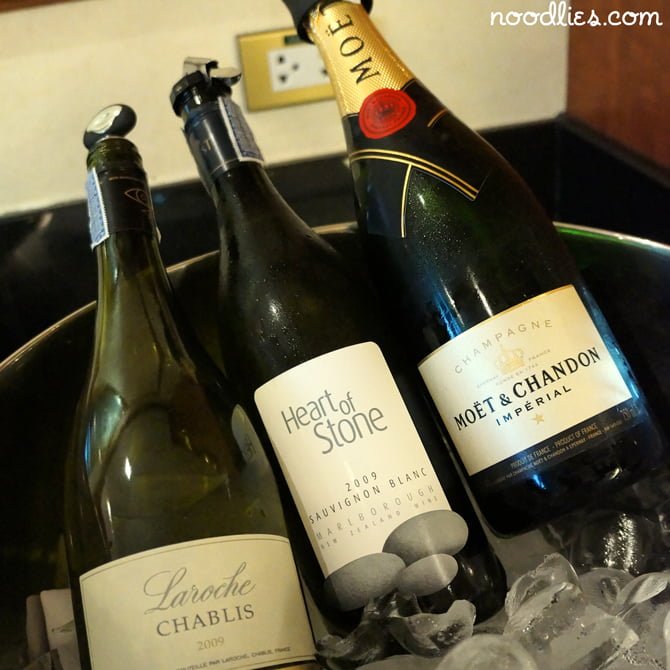 You won't find much missing from the drinks cabinet either, most major spirits and liqueurs as well as a nice selection of reds and chilled whites. My relaxant is a couple of glasses of chilled Moet.
Take a tour of the Emirates Business Lounge, Bangkok with the noodlies featured video above.
The other thing I looove about airport lounges, are the showers.  After hours of wandering around a dusty city, it's great to freshen up for the 9 hour flight.  Love the luxurious toiletries and towels… feels almost like home!  Check out the video above and you'll see what I mean.
There really is no better prep for a long flight than the Emirates Business Lounge.
Emirates Business Lounge
Bangkok, Thailand
This very comfortable noodlies, Sydney food and travel blog experience was courtesy of the always generous, Emirates airline.
Like the photos in this post?
They were taken with a Sony NEX-5N, a supporter of noodlies.