Noodlies, Sydney food and travel blog has done so much travelling lately that's led me to rate comfort above all else.  If I'm to sit in a plane for 9 hours, I want to feel good, relax and sleep so I can arrive in great shape.  It's even more important as this is an evening flight, my Emirates flight arrives around 8am Sydney time.
My Emirates Business Lounge experience has been great pre-flight preparation.  The couple of glasses of Moet went down easily and is starting to help me chillax.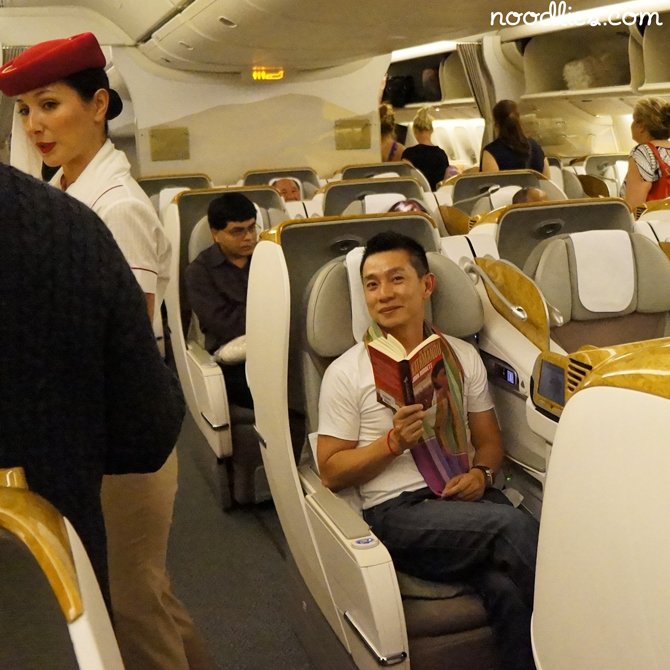 Emirates is known for generosity, for example, they're one of a few airlines to offer 30kg of check in luggage in Economy, here, in Business we get a whopping 40kg; that's double most airlines' Economy allowance!  That generosity extends to our seats, Emirates 777-300ER features 42 lie-flat seats in Business Class, with a seat pitch of 47 inches, seat rows pitched at 1.17m apart. What do those stats mean? Check out the noodlies featured video above, try as I might, I couldn't get my feet to touch the seat in front!
Entertainment is delivered by a 17″ monitor, enormous by airline standards and Emirates' award-winning inflight entertainment system – ICE, features more than 1200 channels with an amazingly generous selection of movies, tv programs, music and flight information.  While I didn't try, I'm told passengers can make phone calls and use email and SMS services from any Business class seat.
I particularly liked the LCD environment controller built into each seat, which manages lighting, acts as a remote for your tv as well as extends your seat into an amazingly number of positions including completely flat. With a touch of the LCD screen you can also extend the privacy panel so your neighbour disappears completely, check out the video above to see it in action!
And then there's our business class meal.  There's something irreplaceable about food being served on china and eating with proper cutlery.  The Business Class three course dinner included:
Salmon and sole roulade
Lamb chop
Mango flan cake
The meal was so lovely with Moet champagne as a pre-dinner drink followed by a couple of glasses of Penfolds Bin 28 Kalimna Shiraz, 2008.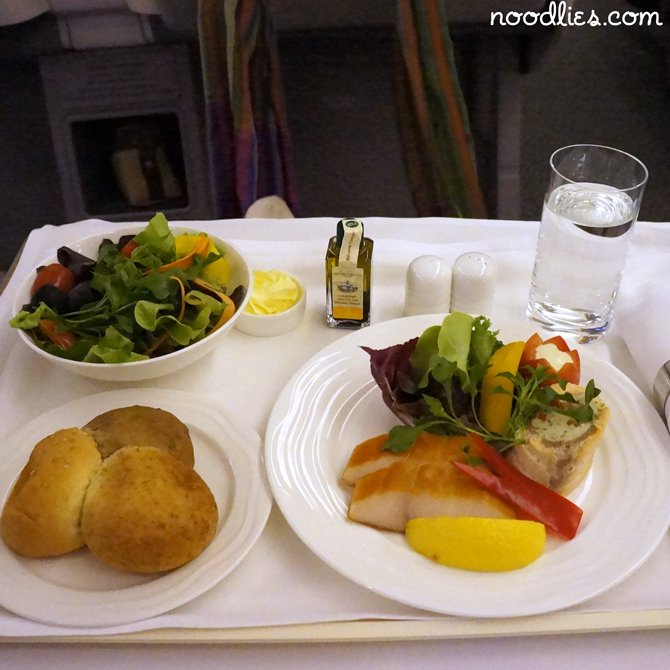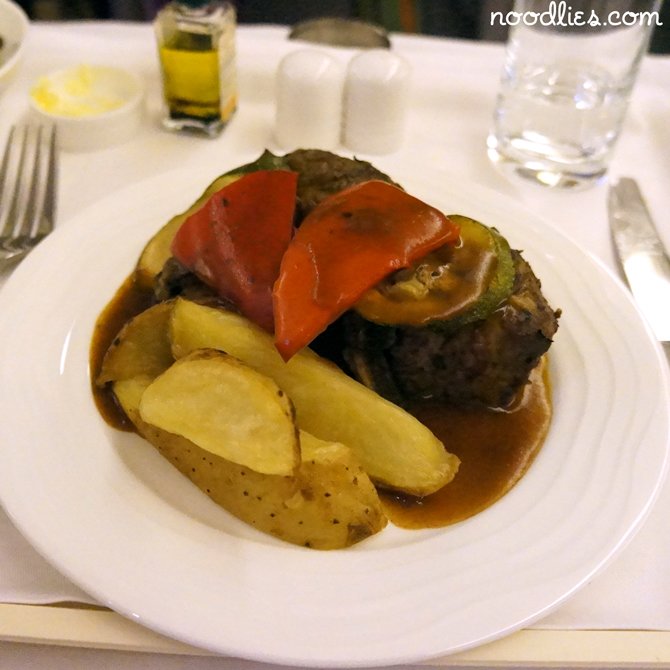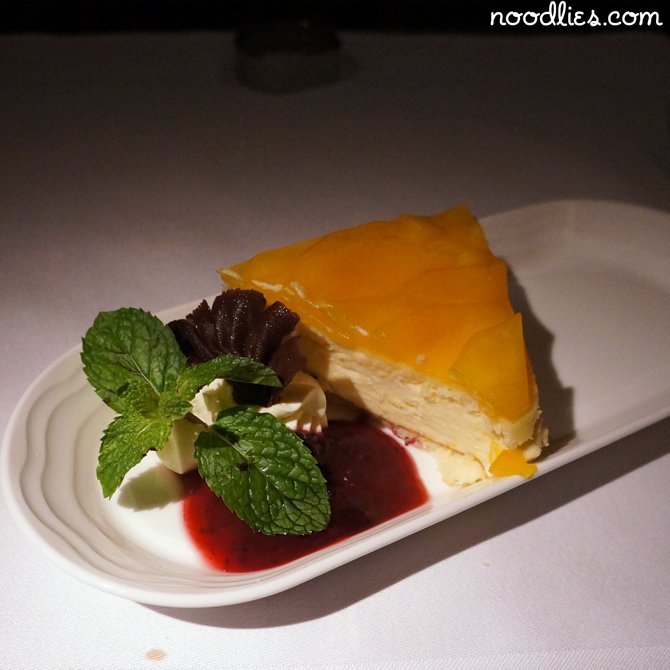 Until now, I had no idea about Emirates' extensive network… who knew that you could fly in such style from Sydney to Bangkok?! But be careful, once you've flown Emirates, it's hard to go back…
About Emirates
Emirates flies to 121 destinations in 72 countries in Europe, the Middle East, Africa, the Indian subcontinent, North America, South America, and the Asia-Pacific.
Emirates currently operates 70 flights per week to Dubai from Australia – from Brisbane, Perth, Melbourne and Sydney. One service daily from Sydney operates via Bangkok. One service daily from Brisbane operates via Singapore. One Melbourne service daily operates via Singapore, with another daily service operating via Kuala Lumpur.
Emirates operates 28 flights per week to New Zealand – daily to Christchurch from Sydney, and daily to Auckland from Sydney, Melbourne and Brisbane.
This very comfortable noodlies, Sydney food and travel blog experience was courtesy of the always generous, Emirates airline.
Like the photos in this post?
They were taken with a Sony NEX-5N, a supporter of noodlies.