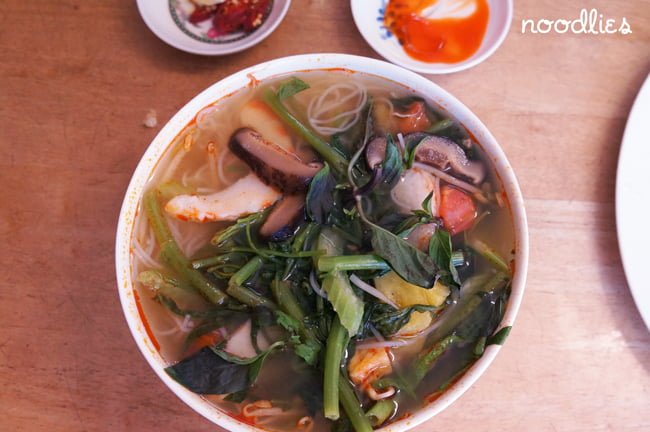 It's the vegetarian interpretation of Canh Chua; Vietnamese sour soup.  This is a particularly home style version that is served with vermicelli rice in the soup.
Traditionally we would have the soup with rice and fried fish or another fried dish.  The left over soup, we would have the next day with vermicelli noodles (bun).  While you can find this soup in most Vietnamese restaurants, it's rare to find this 'next day' version.  So, it's wonderful that we can cut to the chase to find a place that serves it with vermicelli.
You can see from the photo above, the wonderful thing with this dish is that there is an enormous range of vegetables as well as chilli, fried tofu and fresh basil.  It's hard to feel guilty with so many wonderfully healthy ingredients.  My only complaint today is the lack of ochre and they've replaced bac ha (elephants ears) with celery.
Bun cha gio
Walter had bun cha gio, the vegetarian version of vermicelli with spring rolls, bi and topped with crushed peanuts and chives in oil.  We'd eat this with a veg version of fish sauce.  Again, wonderful flavours and guilt free.
With all the eating that comes with writing a Sydney food blog, it's nice to get a fresh, tasty change.  Duy Linh is my favourite dish from the best vegetarian restaurant in Sydney, in my books.  I reckon it's one of the best restaurants in Cabramatta.
Duy Linh Vegetarian
117 John St (Entry via Hill St)
Cabramatta