Noodlies, Sydney food blog pork roll feature in Feast magazine
I'm so excited that my full page 'breakdown' will be in the December issue of SBS Feast magazine (out from 5 November).
But just exactly what is Vietnamese pork roll?
This east-meets-west food is known by many names:
banh mi thit (bread with meat) is what the Vietnamese community calls it at home and abroad
banh mi is used in the UK, banh mi was added to the Oxford English Dictionary on 24 March, 2011
Vietnamese sandwich in America
banh mi sandwich in America
pork rolls or Vietnamese pork rolls in Australia
You'll have to get the December issue of Feast to get the real 'breakdown' on this ultimate east-meets-west fast food.
Want to know where to get a good pork roll?
In April this year I ate my way through Sydney from Penrith to Hurstville; 14 different shops, 8 suburbs over six mouthwatering weeks; see noodlies' video review of all 14 pork roll places.  I ate and and scored 'em pork rolls.  Check out the scores and find out the winner of Sydney's best pork roll here.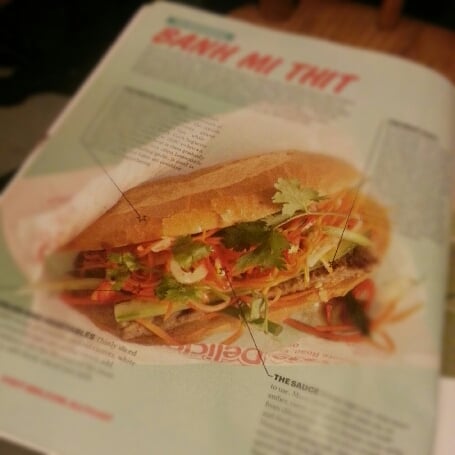 Well? What are you waiting for? Go forth and eat banh mi thit or Vietnamese pork roll, now!
Do you have a favourite pork roll place? Leave a comment and share it with the rest of Sydney 🙂