This classy establishment is the third in the expanding Bau Truong restaurant empire.  It's yet another example of a successful restaurant that have spread east from the Cabramatta 'ghetto', noteable examples include Thanh Binh in Newtown and Luke Nguyen's empire which blossomed from his father's humble Cafe Cay Du in Cabramatta.
This Bau Truong is a much classier execution than the other two branches in Cabramatta and Canley Heights.  But it's just as much a tribute to Mrs Bac Cang Nghieu, 68, founder of the original Bau Truong in Cabramatta.  She came to Australia in 1990 via the family re-union scheme, sponsored by her children.  Five years later, Bac staked everything on Bau Truong, mortgaging the family home, borrowed capital from relatives in America to take over a struggling restaurant.  At the time Bau Truong was located in a drug-ridden recess of Cabramatta's Belvedere Arcade, she says they were regularly terrorised by dealers and addicts.  She still maintains these were some of  the hardest years of her life.  When the drug problem improved and with the move in 2007 to the new John Street location, Bau Truong thrived.  Now it's one of Cabramatta's busiest and most highly regarded restaurants.
A few years ago, she convinced her daughter to open a branch in Canley Heights and last year, her son Michael Thai gave up his successful career in telco to manage the family's latest baby, Bau Truong, Marrickville.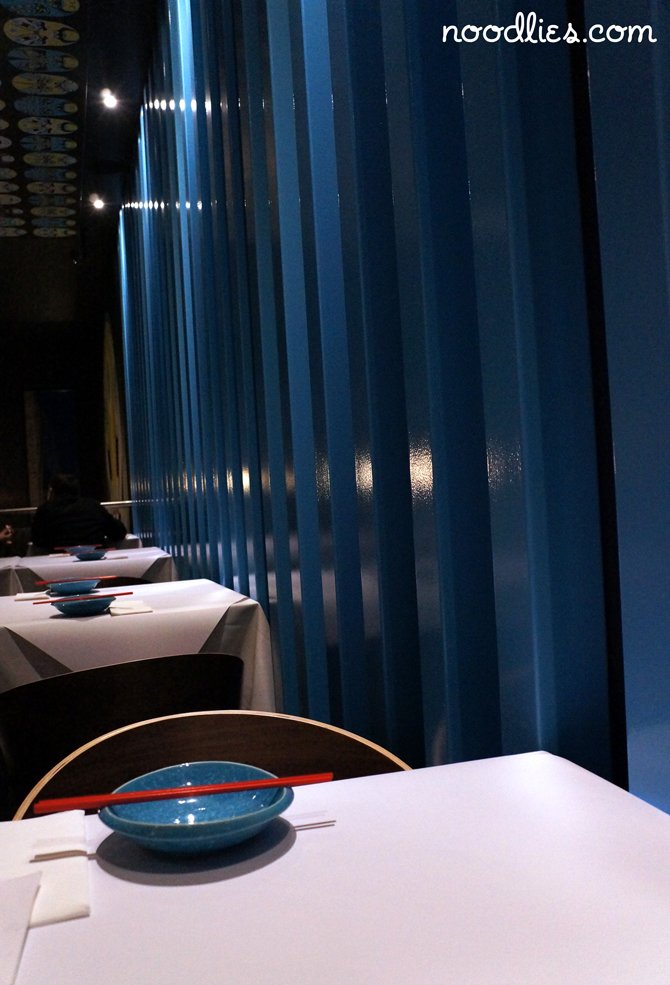 Noodlies, Sydney food blog visited Bau Truong, Marrickville when it first opened, today, I'm back with Penny, another food blogger and her husband Henry.
Bau Truong has the usual Viet favourites, but in Marrickville, Michael says they want to showcase other, less known dishes as well as use local ingredients in others.  I ask him to bring a selection that demonstrates what the Marrickville menu is all about.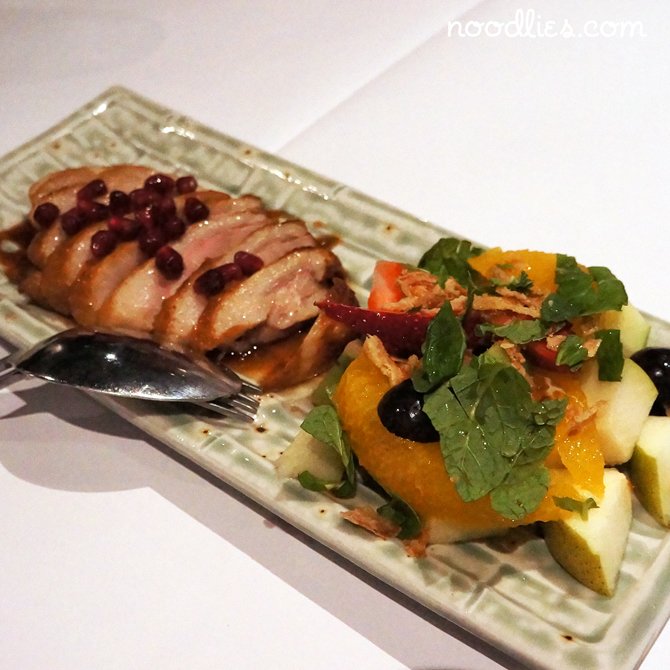 Smoked duck salad makes a great starter, the gamey meat is even more noticeable when combined with the tropical fruit salad of strawberries, pear, green apple and mandarin.  You'd think they'd clash but the salty dressing does a remarkable of bridging the two components.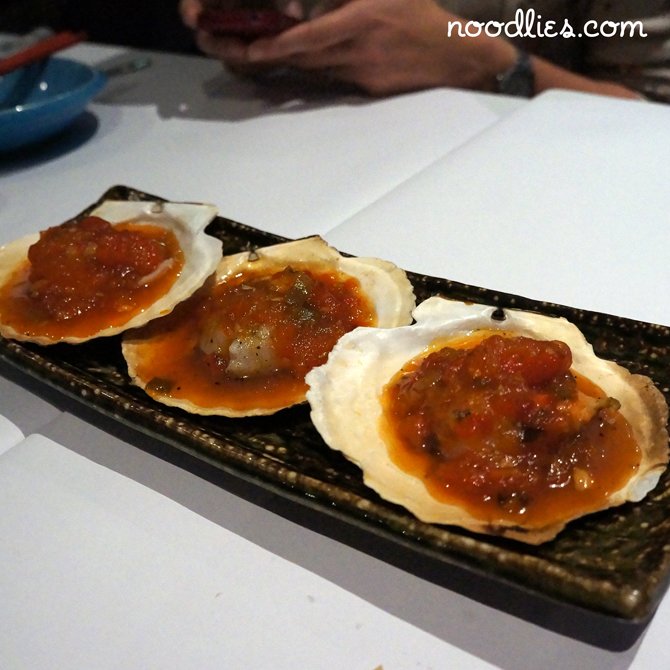 Scallops in spicy capsicum sauce gets the appetite going, light, clean meat with a mild sour and spicy sauce.  It's a light touch, leaving a mild tingle which makes you impatient for more food.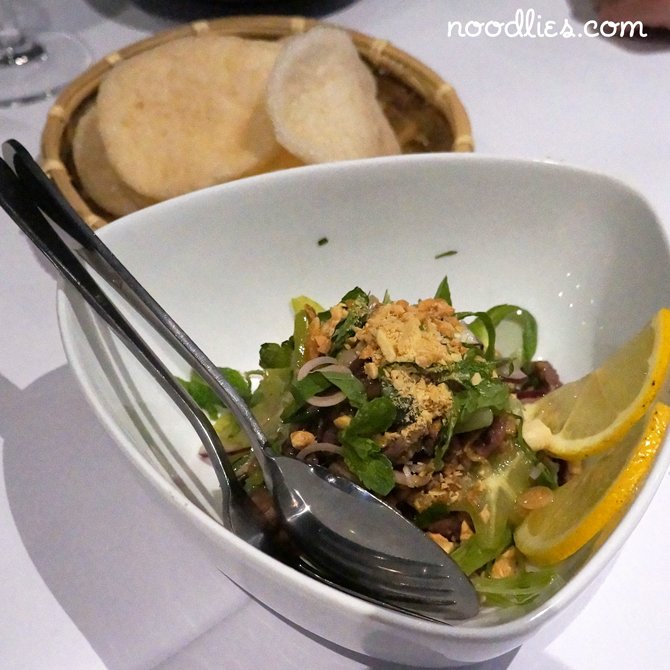 Lemon cured beef salad is another perfect starter. The beef strips are so thinly they glow a bright pink, extra zest comes from lemon, Vietnamese mints and thin slices of star fruit.  Best eaten by placing some of the salad on a prawn cracker.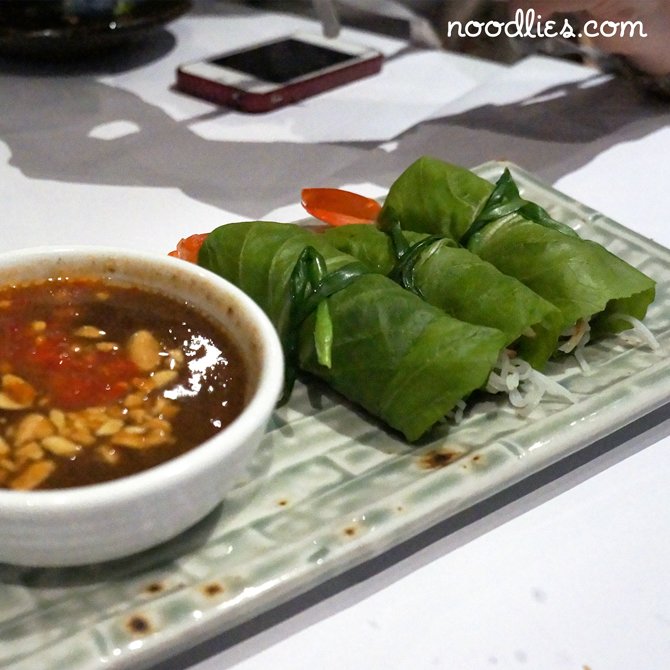 Prawns in mustard greens with chicken liver sauce is totally new to me.  As the name says, the mustard leaves gives the vermicelli prawn rolls an additional lift.  The other innovation is the addition of chicken liver to the hoi sin sauce, which gives it a thicker consistency and flavour.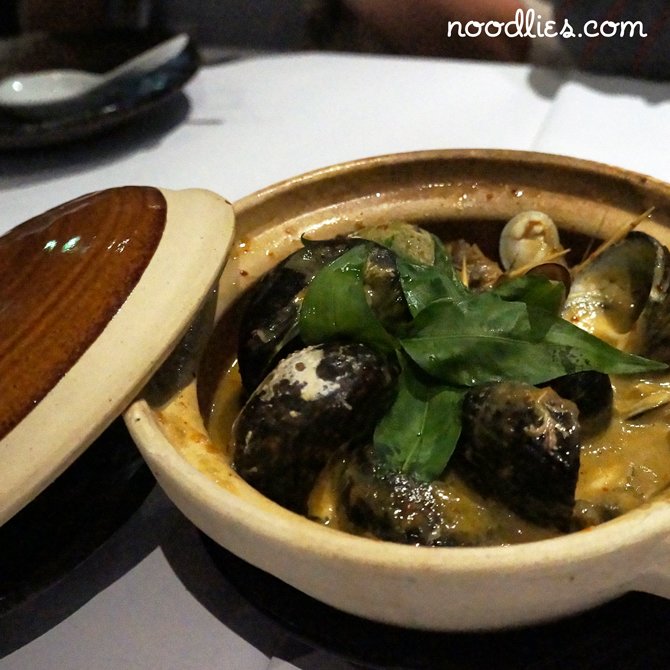 The snail in spicy coconut sauce bowls me over.  As you'll see in the featured video, the snail shells themselves are really for decorative purposes only because the kitchen has painstakingly extracted the flesh for you – they are skewered in toothpicks.  These little buggers don't have a strong taste but do have tough, crunchy flesh that goes very well with the sweet, spicy and creamy sauce.  Perfect dish with a cold glass of light beer.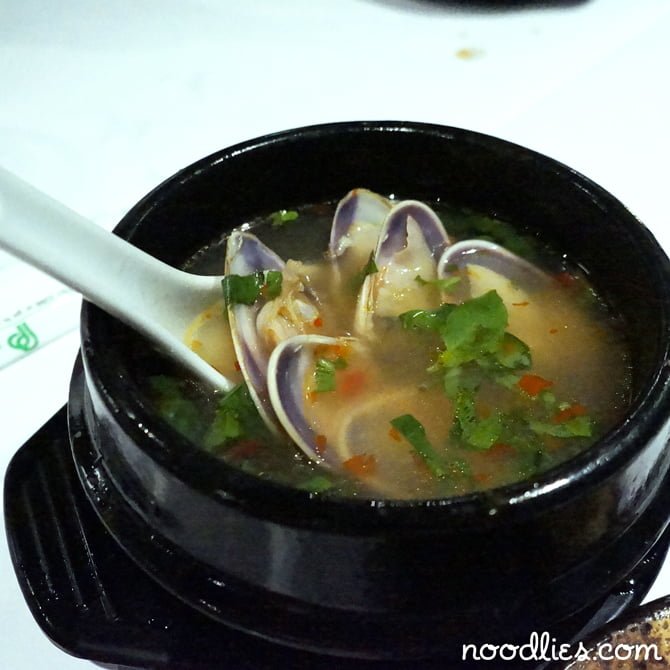 Together with the snails, pippies in clear soup makes you feel like you're sitting on a beach in Vietnam savouring fresh, local seafood.  Here, the soup is clear, similar to a light tom yum but there's more evidence of fish sauce.  Also perfect with good conversation and a glass of beer.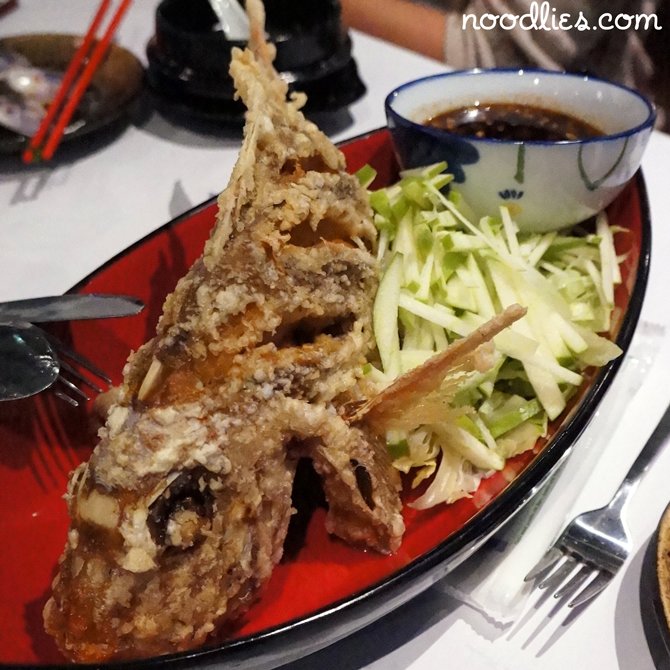 Whole fried snapper completes the seaside experience.  It looks stunning, being showcased so delightfully in a red lacquered long plate.  The batter is thin making it look both delicate and substantial. That amazing batter gives the fish a gorgeous, outrageously brittle crunchiness.  Break through and the snapper's white, meaty flesh is revealed.  Tamarind in the light fish sauce adds both mouth-watering flavour and moisture.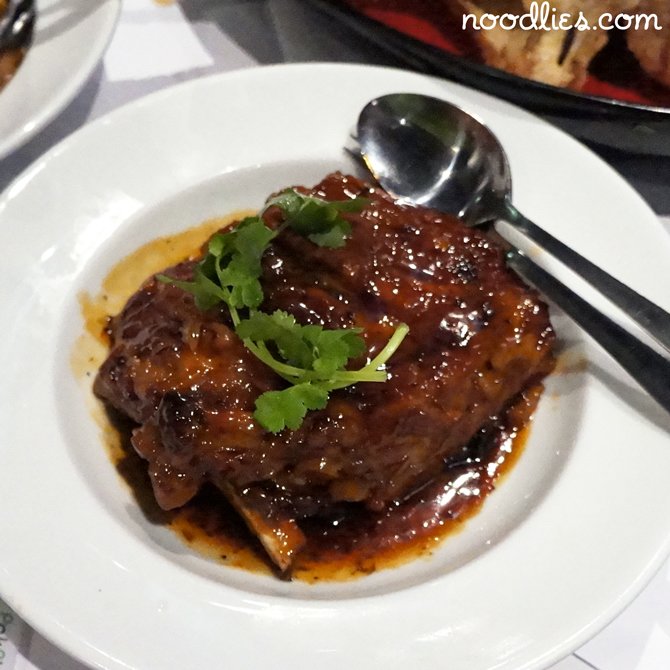 Michael is kind enough to bring out my favourite dish from the last visit.  Caramelised pork belly is a loved across many south-east Asian cultures.  It's a big hit in our family.  Bau Truong replaces the belly with pork ribs so you get the same sweet, mouthwatering pork flesh, without the added belly fat guilt.  Ingenious.  Still a firm favourite of mine.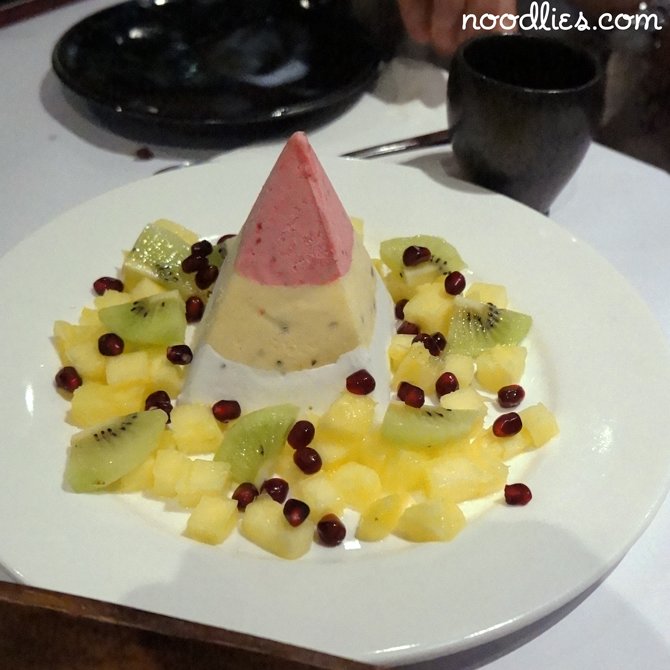 Vietnamese dessert is renowned for being extra fatty and sweet.  If you're looking for a lighter alternative, go for the frozen pyramid; tropical fruit pieces cluster around as if in worship of the sorbet pyramid made of rasberry, chilli passionfruit and kaffir leaf coconut.  The subtle chilli flavour has a satisfying zing.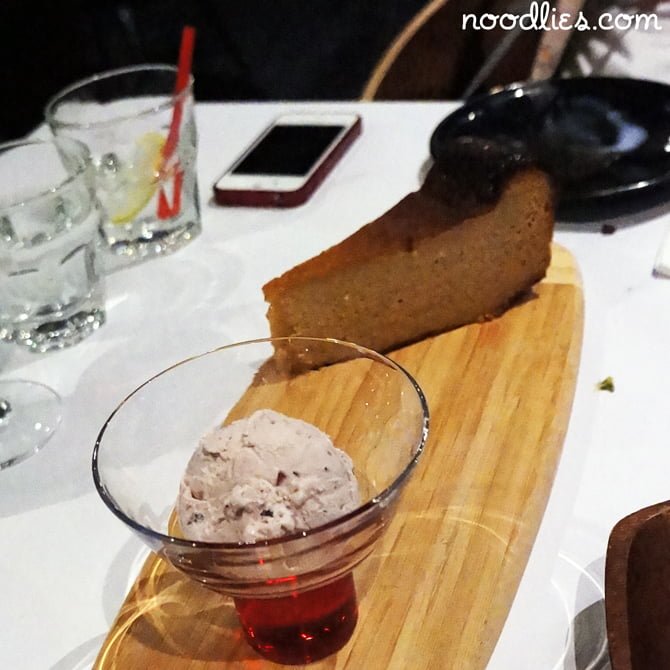 Banh rang is baked egg and coconut custard which is served here with sticky rice ice cream.  It's a dense sweet that is slightly burnt on the outside and moist inside.  The ice cream contains pieces of sticky rice, that glutonous consistency combines very well with the ice cream.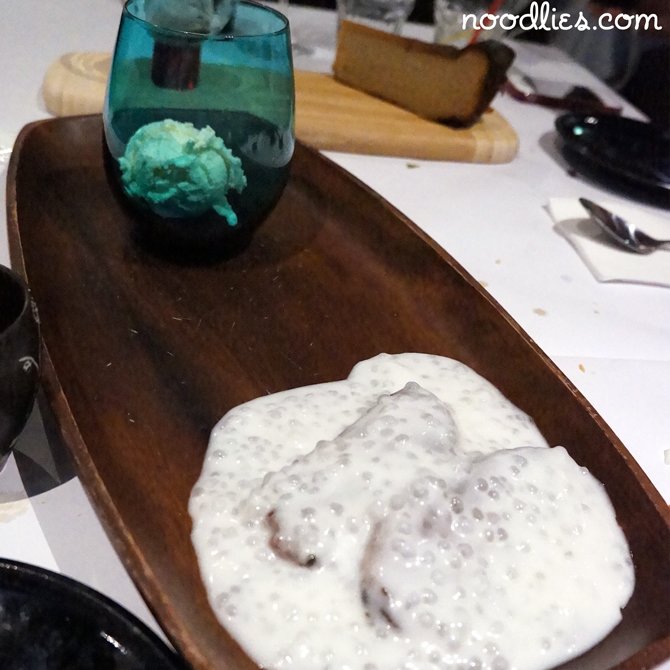 Chargrilled banana is covered in slightly salted, sweet coconut sauce.  Sweet and salty are common taste combinations in Vietnamese desserts.  While not evident here, the banana is perfectly grilled, the slightly charred outer makes great contrast for the sweet, soft banana flesh and coconut sauce.
Bau Truong is another example of a successful Vietnamese restaurant that is spreading east, outside the Cabramatta 'ghetto'.  Of course, the menu offers up your usual authentic standards. But tonight noodlies has a crack at other lesser known, but no less delicious Vietnamese dishes.  The modern, classy environment is a plus.  Bau Truong, Marrickville gets a big tick from noodlies, Sydney food blog.
Bau Truong, Vietnamese
Marrickville
185 Marrickville Rd, Marrickville
Ph: 9569 4938