"The rich and sometimes secretive culture often associated with wine can make it a daunting subject, but in creating THE BLOCKS I wanted to celebrate the beauty and romance of this remarkable world" Faye Toogood
THE BLOCKS is a Penfolds and London's Studio Toogood collaboration creating a world first space in the shadows of Sydney Harbour Bridge completely dedicated to wine, food and design.  According to Penfolds, "Through art and design, THE BLOCKS encourages visitors to discover their palettes using sight, touch and smell before tasting some of the world's greatest wines all matched to distinctive foods".
Open for strictly three weeks only in Sydney before touring Melbourne and the world, this innovative space invites guests to explore over 260 bespoke Toogood pieces and five installations by Australian artists all inspired by Penfolds wines.   Tonight, noodlies Sydney food blog is at the launch event before THE BLOCKS goes live in Sydney from 16th March.
Set in Pier 2/3 in in Walsh Bay, the space is huge but with clever lighting manages to feel perfectly intimate and successfully allows the art installations to be the main focus.
The 5 Oaks is the most interactive of the installations, inspired by the five groups of grapes that's available for tasting. It consists of five imperious wooden totems that have been impregnated with different bespoke scents.
There are also works by five Australian artists. I was most drawn the works of photographer, Samuel Hodge and his tribute to Glen Innes, one of the highest towns in Australia (see featured video).  It was an amazingly close-up and honest portrait of rural Australia. "… I spend my time avoiding inspiration… it has always been about telling the truth and includes sometimes destroying the preconceived reactions and romantic ideas…" says Hodge.
Kit Webster's installation parallels diamonds and wine, both objects of desire, celebrating their shifting and changing beauty, their hypnotic and mesmerising qualities.  Sharp shapes and symmetrical surface symbolise the craft of wine making.  The way this piece floats enigmatically is a reminder that in art and wine, beauty is found in the intangible (see featured video above).
My friend and food blogger, Daniel a lover of both art, fashion and food shares his experience of THE BLOCKS in the noodlies video below:
And of course, there was food, lots of canapes wagyu beef, crab, pumpkin and my favourite, sorbet dessert below, all prepared by Executive Chef Jock Zonfrillo of Magill Estate Restaurant.
And the wine? My favourite was the Penfolds Bin 128 Coonawarra Shiraz, 2010, romantic, alluring, this deep crimson wine stole my heart on the night.  As did all the wonderful installations by featured Australians artists.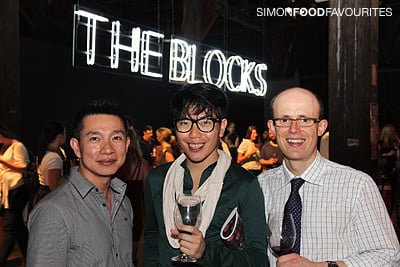 The food blogging blokes (l-r): Thang (noodlies), Daniel, Richard and Simon (our wonderful official photographer behind the camera).
THE BLOCKS
While discovering THE BLOCKS, visitors will be greeted by trained sommeliers who will guide guests on a journey through the five wooden totems impregnated with different bespoke scents produced in conjunction with a perfumer for the event.
While entry to view THE BLOCKS is complimentary, the sensory discovery is enhanced by experiencing the creative inspiration, Penfolds wines. An extensive Jock Zonfrillo menu sourced from the best of South Australia has also been designed specifically or the experimental space and to accompany the wines.
Entry is complimentary (not including food and wine), booking is encouraged.
THE BLOCKS
Sydney, From March 16th to April 5th
Pier 2/3, 13 Hickson Road, Walsh Bay
Opening Hours
Wednesday – Friday 4pm to 11pm
Saturday – Sunday 1pm to 11pm
Noodlies, Sydney food blog and friend attended as guests of THE BLOCKS, by Penfolds.