Temple Street market is one of the most popular in Hong Kong, selling all those nic nacs that everyone seems to want when they're on holidays: t-shirts, watches, bags, shinny jewellery, etc.  On Temple street, the market stretches between Nanking and Kansu streets in the Yau Ma Tei/Jordan end (not Mongkok).
On the corner of Cheong Lok street is Tong Tai, a seafood restaurant that's been there for as long as noodlies, Sydney food blog has been visiting Hong Kong, that's at least a decade.  You could eat inside the restaurant, but most choose to sit at the tables in within the market to soak in the bubbly, festive atmosphere.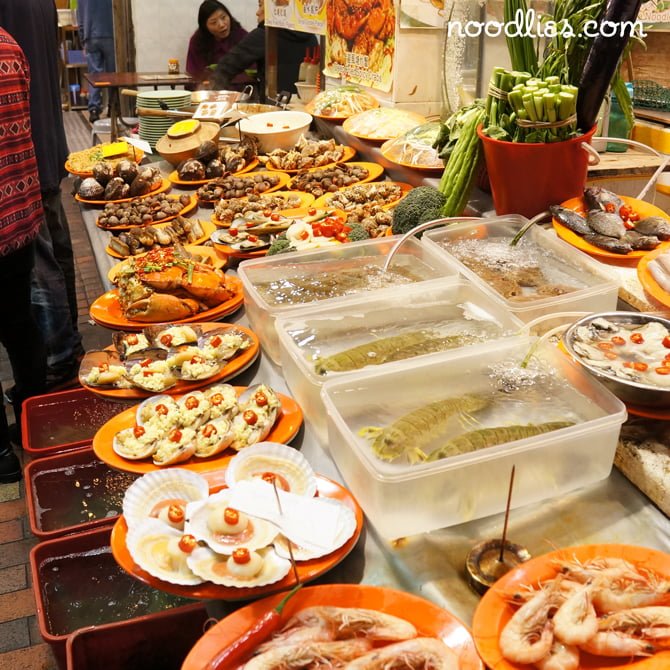 You can choose from all sort of fresh seafood from prawns, fish through to crabs and clams.  Tonight, I'm having both meat and fish.
First a meat platter, with goose, pork and fried tofu.  All delicious, moist, tender and particularly tasty.
It's a seafood restaurant after all, so I ordered steam 'rabbit fish' not realising they're very small. Six steamed rabbit fish were served in a light soy sauce.  There wasn't that much meat, but what there was, it was clean white and delicious.
Tong Tai Seafood Restaurant,
Cnr Temple & Cheong Lok Streets, Jordan, Hong Kong
Like the photos in this post?
They were taken with a Sony NEX-5N, a supporter of noodlies.