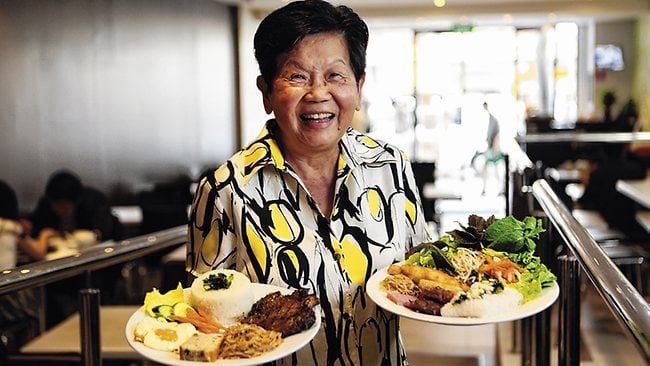 Forget what you thought you knew about Cabramatta. The southwest Sydney suburb is a foodie haven.
Melissa Matheson, Daily Telegraph
Saturday, 7th January 2011
From the drug-fuelled mess of the 1990s, Cabramatta has emerged as a major player in the food tourism market. And the prices are delicious – think fresh pork rolls for just $3. Seriously.
Food blogger Thang Ngo grew up in Cabramatta and is proud to share his home town's kitchen skills ahead of SBS's three-part documentary series, Once Upon A Time In Cabramatta, which starts tomorrow night.
While Cabramatta is the most multicultural postcode in Australia, the documentary focuses on the Vietnamese community within it and the struggles the war-torn refugee families have faced since moving to Sydney.
"It's like going to Vietnam without leaving Sydney," Ngo says. "No passport required, just a sense of adventure. Food is the area's top attraction; fresh, flavoursome, exotic and great value."Cabramatta is the capital for Asian produce: bitter melon, durian, hot chilli, Asian spices and herbs. The dress material attracts an eclectic mix of shoppers: brides to be, Pacific Islanders, even drag queens looking for fabulous dress materials."
Today, among the famous pho outlets (where you can get a bowl of noodles, meat, vegies and soup for about $8) you will find specialist Asian supermarkets and backyard farmers selling produce on the streets.
"Food has been a wonderful way to break down barriers," Ngo says. "Vietnamese food is particularly flavoursome and relatively healthy. Think of fresh Vietnamese rolls; we use a lot of fresh mint and vegetables and aren't too heavy handed on oils and fat.
"There's literally something for every taste; a warm bowl of fragrant pho, healthy goodness of Vietnamese fresh rolls (goi cuon), crispy moreishness of Vietnamese pancakes, spicy and zesty bowl of hot udon soup (bun bo hue) and all kids, young and old, love Vietnamese spring rolls (cha gio)."
The sheer determination of the restaurateurs makes the food all the more heartfelt.
Bac Lang Nghieu, now 67, mortgaged the family home and borrowed money from relatives in the US to open Bau Truong restaurant in 1995, at the height of the heroin war in Cabramatta.
In the first two years she was faced with daily harassment from drug dealers and addicts but, as the suburb began to improve, so did her business. Her family-run business now includes eateries at Canley Heights and Marrickville.
"Bac Lang Nghieu is an example of the dogged determination of Vietnamese refugees," Ngo says. "Bau Truong is now one of Cabramatta's most popular restaurants.
"Through all the changes, their popular dishes remain the same – taro spring rolls with a unique and delicious twist, and bo nuong vi – thin strips of beef marinated in lemongrass cooked at your table."
At the other end of the spectrum, Eddie Nguyen set-up the very popular Cafe Nho just as Cabramatta was coming good.
It sits in the Belvedere Arcade, the scene of so many drug deals in the days of old, and has brought life to the strip, with the alfresco dining area packed with coffee lovers.
"Now the drug of choice in the arcade is Eddie's famous Vietnamese iced coffee," Ngo says.
"Served in a tall glass, it's a particularly strong blend that is subdued with a thick base of condensed milk."
Pho Tau Bay, on John St, was voted the best pho restaurant in Cabramatta, by the locals no less, so you know it's good.
And all this is just to whet your appetite for the colourful – and tasty – celebrations of Lunar New Year from January 23.
The adventure starts right here in Sydney. Eat up!
Once Upon A Time In Cabramatta airs on SBS tomorrow at 8.30pm and continues January 15 and 22
Bau Truong, 42 John St, 9727 4492; Cafe Nho, Shop 8, 66-68 John St (Belvedere Arcade), 9755 9299; Pho Tau Bay, 12/117 John St, 9726 4583
*photo from Daily Telegraph online.