Warning: this post contains images and video of fertilised duck egg, please don't read if it may disturb you.
Hot vit lon, is a common delicacy in Vietnam and across many south east Asian countries including Thailand, Laos and the Philippines.  Basically, hot vit lon are fertilised duck eggs, at some grocery shops you can buy them of varying ages from around 7 days onwards.  Of course, the older they are, the hairy and more fully formed is the foetus.  They are soft boiled.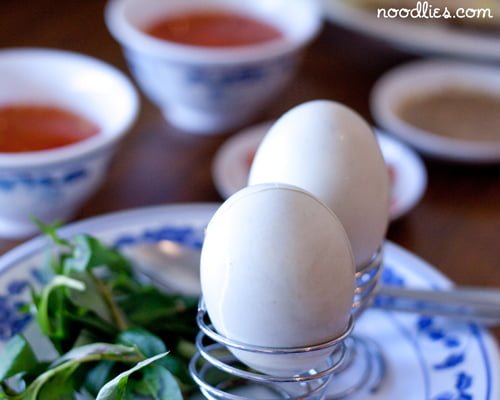 Some restaurants in the Cabramatta area serves hot vit lon and today noodlies Sydney food blog took a journo friend, Daisy Dumas to a secret location to try one…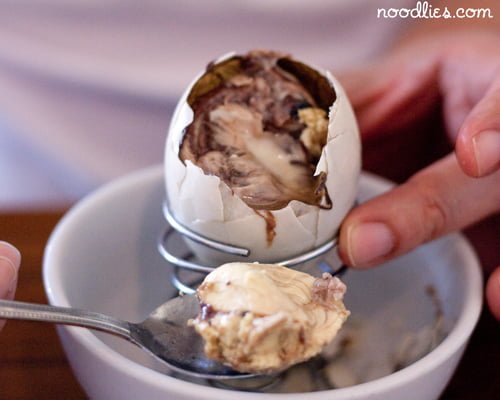 The eggs were traditionally eaten by men as a sign of their manliness, the older the egg, the bolder the man.  While women eat them to help with fertility.  The truth is, many eat them for the nutrition and protein.
There are four parts to the egg:
the sweet clear juice that runs through the egg
a soft yellow protein section at one end which is flavoursome
the foetus in the middle which can be hairless or very hairy depending on age
and a hard, crunchy white husk at the bottom
Sweet Daisy was a great sport.  I talk her through how to eat a hot vit lon and you can see her live reaction in the noodlies video above.
I describe the taste in the video above.
Hot vit lon isn't for everyone, "it's a difficult dining experience" Anthony Bourdain says, but it's my cup of tea.