A change of jobs three months ago means I get to work by walking and public transport, hooray for no longer being frustrated in Sydney's unpredictable traffic or being held to ransom by selfish, rude drivers.  These days it's an easy stroll to the trains.  All up travelling time is two hours each day, door-to-door.  Ahem, that's 520 hours each year spent to-and-from work, or the equivalent of more 13 working weeks*.  That's a lot of hours. And after three months, I've already formed a habit.
On the trip to work, I'm alert and in learning mode, ready for the busy day ahead.  I listen to audio books or podcasts such as For Immediate Release, Marketing over Coffee, Blogcast FM and more, to improve my mind.  In the afternoon, I'm physically and mentally exhausted so to wind down, it's music – I've got varied tastes, nostalgia, pop, disco, k-pop, electronic…
Given the 520 hours of travel, I've been looking at a pair of high end earphones when Logitech, a noodlies, Sydney food blog supporter contacted me about their premium and stylish UE (Ultimate Ears) range, which  includes noise-isolating earphones, headphones, wireless speakers and smart (wifi) radio.  I jumped at the chance, it sounded like this UE range is made with the urban warrior in mind.
I pick the top of the range Logitech UE 900 noise-isolating earphones which have had rave reviews around the world – wired raved "nearly flawless; buy it now".  Ultimate Ears is known for making very pricey, custom in-ear monitors (IEMs) for musicians to use on stage. Now acquired by Logitech, UE earphones and in particular the UE 900 shares design elements from its pro cousins, delivering near-pro quality at a lower price.
These things are beautiful, the earphones are wrapped in a black matt box, looking like precious jewellery.  It takes a little time to pick the right ear buds (there's various sizes to chose from) and to fit them.  But once that's done, it's the sound, the sound – there are four speaker drivers in each ear piece, two woofers for low frequencies, one for mid-bass, and one tweeter for highs to help deliver every note as close as possible to as it was played.  And it's incredible, crisp, clear, concise sound that's also warm and intimate.
Beautiful. Glorious.
The first song I listened to was Song of Bernadette, the haunting ballad sung by Jennifer Warnes and written by her and Leonard Cohen.  It's one of my all time favourite songs, I've listened to it thousands of times.  The UE 900 took me away from the noisy train carriage to a music theatre far, far away immersing me in the touching lyrics and raw emotion of Warnes' voice:
"So many hearts I find, broke like yours and mine
torn by what we've done and can't undo…"
I discovered a deeper intensity, pain, humanity in this song, than ever before.
But I'm a novice, this is what professional music reviewer, Michael Calore of Wired said when he tried the UE 900:
"The clarity? I was totally floored every single time I hit "Play." In my testing, I listened to songs I thought I knew by heart, and I was able to hear details I'd never picked up on before. Whenever I listen to really nice headphones, I can't resist the temptation to throw on The Beatles. So imagine my embarrassment when I heard Paul and John whistling in the background during "Taxman" for the first time. Or all the bass string noise in "Come Together" — how could I have missed that the first two thousand times? But there it was. Pink Floyd Animals? I listened to it twice. Oh, and Karajan's reading of The Ninth with the Berlin Philharmonic? As I slooshied, I knew such lovely pictures.
I got so carried away during the first session, I kicked back on my bed and didn't get up again until I had completely run down the battery on my iPhone."
 The Logitech UE 900 noise-isolating earphones comes with just about everything:
two braided cables, black and blue with built in controls for iPhone, iPod and iPad
3.5 jack adapter
8 ear cushions to fit just about any ear size
travel jack for use on planes to reduce noise
stunning hard travel case and soft travel bag
extensive documentation
At $499.95 the Logitech UE 900 is in the realms of a special present or self treat. But if you're on public transport for the equivalent of 13 working weeks, it should be on the wish list – what would you pay to discover greater richness in the songs you love, transforming the journey from chore to joy?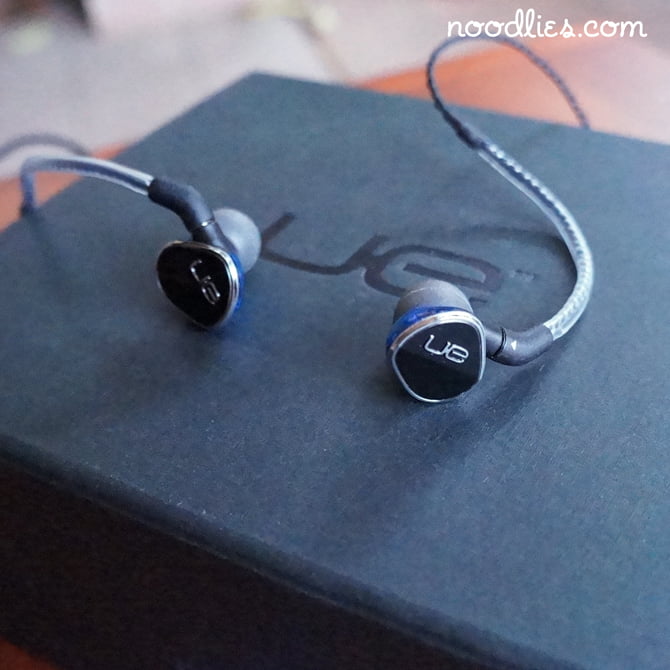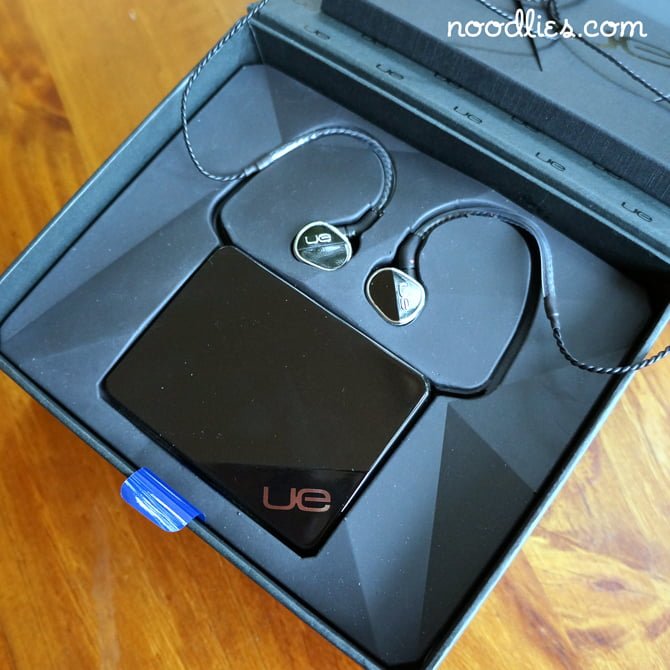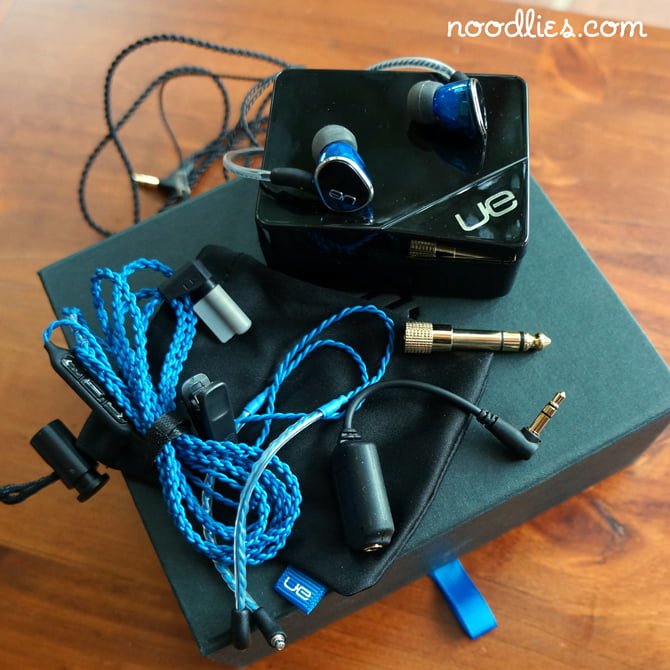 Logitech UE 900 earphones were provided courtesy of the lovely people at Logitech, a noodlies, Sydney food blog supporter.
* 8 hours to a workday, five days a work week.