Growing up in Vietnam and in south east Asia generally, we have so many different types of noodles, both soup and stir fried, pho, hu tieu, char kway teow.  Most of these are rice based noodles.  Chinese however, go for mi or egg noodles.  With the spread of the Chinese community around the world, up to a decade ago most in the West would think egg noodles were the only kind in Asia.
I think I must have Chinese blood because I've always been a fan of mi, even as a child.  Wonton egg noodles is a particular favourite in Hong Kong and Macau.   Now, I'm here, how could noodlies, Sydney food blog not indulge?!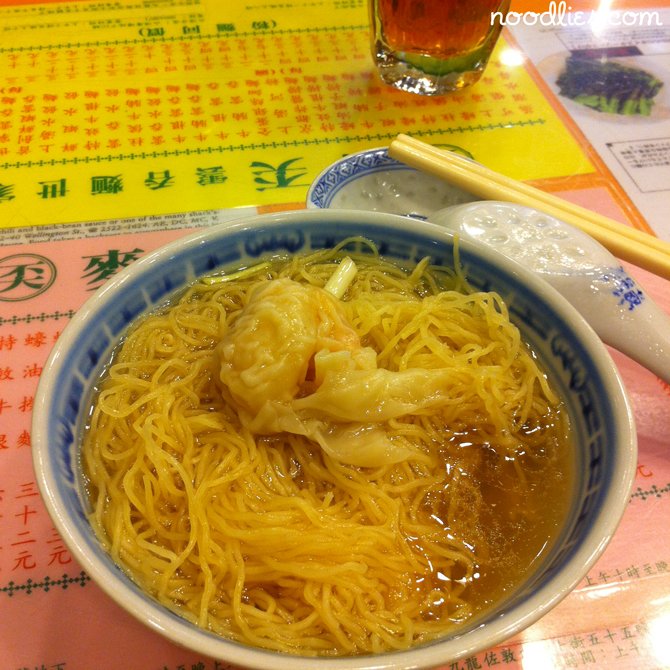 For three generations, Mak's Noodles has been serving up tasty wonton egg noodles that is highly praised by both locals and international foodies, most notably Anthony Bourdain.  You might be shocked when your Mak's noodles arrives in a small rice bowl; the owners argue it's about quality over quantity.  The small bowl keeps the noodles and wontons from going soggy.  A small serving also allows them to pack more punch into the soup giving diners an intense rush.  The noodles themselves are strong, just short of being crunchy. Today Mak's Noodles has branches in Hong Kong (Central, TST and Causeway Bay), Macau as well as China.
Ok, it's a big call: Wong Chi Kei, Macau serves up the best egg noodle soup I've eaten.
The first thing you notice is the cloudy soup, where others, including Mak's are clear.  Like Mak's, their wonton is buried under the noodles and soup, to be revealed like hidden treasures.  And these treasures are delicious, each prawn wonton delivers a burst of seafood flavour, texture and aroma, packed in a tiny package. The piping hot soup, strong in flavour is a good complement to the dry, lively noodle strands.  Wong Chi Kei manages to balance intense with subtle in a way that leaves you breathless and wanting more. But a word of caution as someone who has ordered seconds, too much of a good thing can spoil something special!
Wong Wun Chi, the founder started making these noodles in 1940 and opened his first noodle place in 1946 in China, including She Lung and Canton (origins of great egg noodle soup).  Wong Chi Kei opened in Macau in 1959 and has been a favourite haunt for locals, tourists and visiting dignitaries ever since.
Mak's Noodle
57 Parkes Street, Jordan/TST
Kowloon, Hong Kong
Wong Chi Kei Noodle
17 Largo do Senado (Senado Square), Macau
2833 1313