Breaking: Noodlies, Sydney food blog reports on food trends for 2013
One in four Australians change their food habits because of news coverage, according to Weber Shandwick's annual food trend report, Food Forward 2013, with artisan supermarkets, Wagyu restaurants and sweet/savoury flavour combinations forecast to be some of the biggest upcoming food trends.
Food Forward 2013 is an annual trend report which reveals sentiment about Australian food culture from more than 1,000 consumers and leading taste-makers from around the country including food editors, chefs, food bloggers and nutritionists.
The top insights revealed five trend clusters – commonalities between individual trends – which are predicted to shape the 2013 food preference, purchase and consumption of Australia.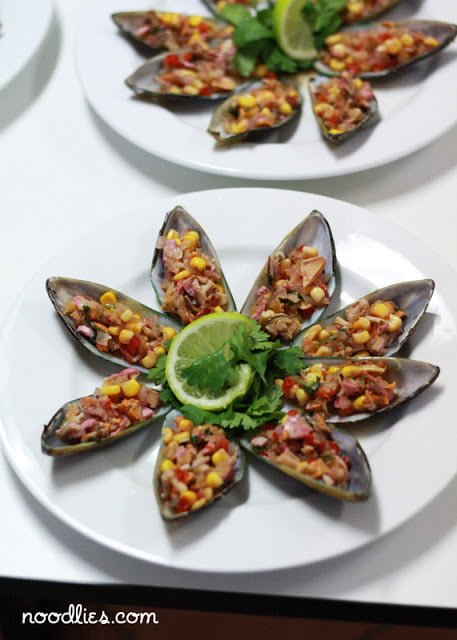 Last year, Food Forward 2012 identified Global Flavour Combination as a trend, including South American (Peruvian mussels above) and Korean influences.  Judging by the spate of Mexican and Korean restaurants opening in Sydney it seems like the report was spot on.  This year they're predicting this trend to really boom.
For the coming year, Food Forward 2013 has identified five food trends:
Artisan Supermarkets
The butcher, the baker, the candlestick maker; Woolworths and Coles are introducing bakeries, butcheries, sushi-chefs and pizzerias in various stores across the country, enabling consumers to personalise their food shopping like never before.
Familiar Dining Novelties
Bigger kitchens and nostalgic menus will encapsulate restaurants trends in 2013, with unstructured menus making entrées and mains a thing of the past. This casualisation of the menu will also see the adoption children's food for grown-ups and a growing number of food trucks on our streets.
International Flavour Duopoly
South American and Asian flavours will boom in Australia in 2013, with Korean, Wagyu and Peruvian restaurants; spicy food from northern China; and Kimchi – a fermented Korean dish made of vegetables – showcasing a wider range of flavours. Mexican foods and flavours will also continue to boom, becoming an essential part in any Aussie kitchen.
Basics Revival
Aussie consumers will go back to basics in the kitchen, breathing new life into staple ingredients. Vegetables will become the centerpiece of Aussie meals; novel foods from nature, such as the Kakadu Plum and Warrigal Greens, will be gracing our plates; and we may even see a rise of edible insects like grasshoppers and locusts.
Flavour Loss, Flavour Gain
Natural sweet and savoury flavours will be combined to create new taste sensations for an evolving Aussie palate, with a growing desire to taste real flavours of food untarnished by excess sugar and salt.
As part of the survey, Australians were asked to choose the most significant food stories of 2012, and how these food stories impacted their food habits throughout the year.
1. Food Prices Hit Record Highs
More than 50% of Australians surveyed nominated this as the most significant story of 2012. Articles detailed that food prices were forecast to reach record highs in 2013 with skyrocketing agricultural commodity prices causing the world to re-enter a period of "agflation".
2. Fruit and Vegetable Growers Fear They May Be Victims in Supermarket Wars
Coming in close second (47% of votes) was news that Australian fruit and vegetable growers were to become the latest victims in the supermarket price wars after Coles slashed its fresh produce prices.
3. The Price is Ripe: Buyers Feel Squeeze as Tomatoes Leave Salad Days Behind
Third place (21% of votes) was allocated to news about tomato prices soaring in September, reaching as high as $12 a kilogram, making it the most expensive fruit in some supermarkets.
News coverage continues to be a major influence of consumer purchase behaviour, with 25% of those surveyed changing their food habits as a result of what appeared in the media. These include:
Almost 45% sought out cheaper food alternatives
41% paid more attention to making healthier food choices
Almost 40% purchased only Australian-made produce and cooked more at home
20% purchased only free-range produce
17% paid more attention to the nutritional value of food selected in restaurants
Food Forward™ 2013 is a year-end food survey developed by Weber Shandwick, one of Australia's leading public relations agencies.
More information will be available from webershandwick's website shortly.
About the Food Forward
Weber Shandwick commissioned research company, Pure Profile, to survey a nationally representative sample of 1,003 Australian consumers, during the month of October 2012. In addition, Weber Shandwick collaborated with 10 food influencers to gather insights about food trends.
Food Forward™ 2012
In 2011, Food Forward™ 2012 results identified the following trend clusters:
Gourmet Convenience
Innovative food products and quality foodstuffs are making gourmet-style meals more achievable than ever – and without the hassle. By using semi-homemade culinary masterpieces, even the most time-pressed cooks can still be stars in their own kitchens.
Global Flavour Combinations
Home cooks will take a more borderless approach to food preparation in 2012. Aussie kitchens will trend toward a cooking style that combines ethnic flavours and ingredients from around the world. In the coming year, global flavour pairings from the Americas and Korea, in particular, will explore unexpected combinations and unique regional cuisines.
Farm to Fork
Aussie consumers want to understand the journey food has taken, from the farm to their forks. Whether it's a bunch of bananas or a hamburger, it is more important than ever to understand where food comes from, how it's made and whether the flavour is natural or manufactured.
Culinary Crusading
From sustainable products to good purpose brand initiatives, food purchases are now based on more than just good taste. Activism is now expressed through food choices, and with this comes an expectation that brands or retailers are doing the most they can for the community.