Hailed as the world's best dumplings and a favourite with food bloggers, the queue for Din Tai Fung is famously long.  Regular readers of noodlies, Sydney food blog know only too well my aversion to queues.  But at last on Tuesday, 7th June, I finally made it and I didn't have to queue up!  I figured it may be a while until I return and decided to order up big!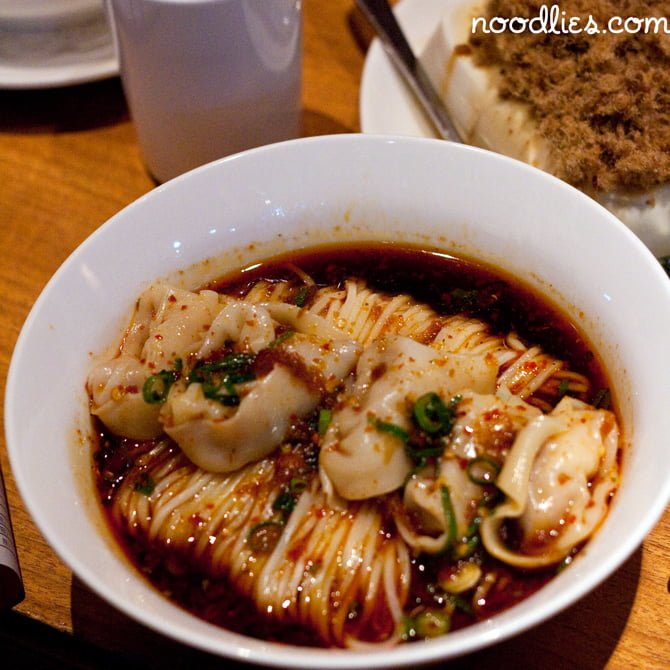 The chili noodle dumplings came highly recommended and with good reason.  Nice sharp, chili sauce that seemed to soak into every aspect of the dumpling and noodles.  Really like the firm texture of the noodles and dumpling outer.
The tofu pork floss with century eggs looked stunning and literally turned heads… a diner at the next table leant over to ask about the dish, in particular the pork floss.  This is a consistent favourite of mine, cool tofu with salty pork and egg.  For some, the ingredients could be unusual, but most will find it very accessible.  I offered the curious neighbouring diner a taste and she loved it.
The pork xiao long bao dumplings was high quality, firm but yielding outer and wet juicy centre.  Though I'm not sure if it's lived up to the hype.
Similarly, the vegetarian dumplings were tasty and delicious, but doesn't soar for me.
Probably my least favourite dish was the drunken chicken which was boney, the flesh limp rather than firm.
Overall, it was a great meal, but for me, didn't live up to the, perhaps unfairly high expectations.
Din Tai Fung
World Square
644 George St, Sydney
(02) 9264 6010